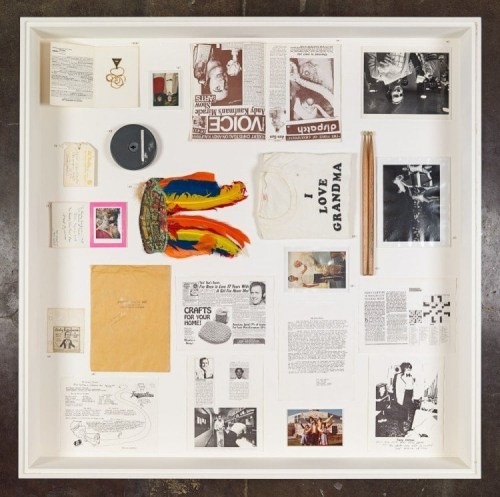 MACCARONE 630 Greenwich Street
January 12–February 23, 2013
This exhibition feels like a disembodied wake. The deadpan display, organized by artist Jonathan Berger and consisting of seventeen vitrines encasing various artifacts and ephemera from Andy Kaufman's life, presents appropriate restraint and forces the viewer to gaze down in search of clues that might help piece together this most enigmatic of performers. The objects—primarily juvenilia, résumés, family effects, clothing, well-worn records—can be activated by approaching one of the on-hand "guests"—all people who knew and worked with Kaufman during his lifetime—but if you already have a relationship with his work, the show offers a simultaneously somber, sentimental, and playful experience. As at any posthumous celebration, you will likely cry, smile, and laugh.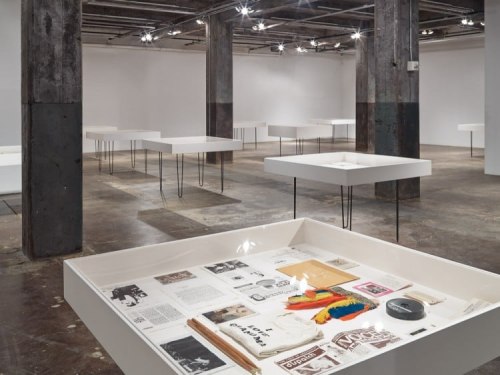 The most poignant vitrine-as-coffin contains an out-of-commission conga drum near a Hawaiian shirt; Kaufman used these items during a crying-into-drumming routine, and a 1979 version of it is on view in an adjacent gallery featuring videos of him performing. There are also letters, unpublished novels, and a last will and testament (written portentously at age thirteen), as well as photographs and costumes from the short television career that made Kaufman somewhat of a household name. Each object here points to an action. Take the photograph captioned "Milk and Cookies, Manhattan School of Printing cafeteria, 1979," which is from a performance that entailed Kaufman's taking his entire Carnegie Hall audience out for milk and cookies via twenty-four school buses after his show. Not to be missed, Kaufman's duck-duck-goose structured bits (too many gems to enumerate here), many of them extremely physical, can be viewed in the videos in the nearby space.
Read full article at artforum.com