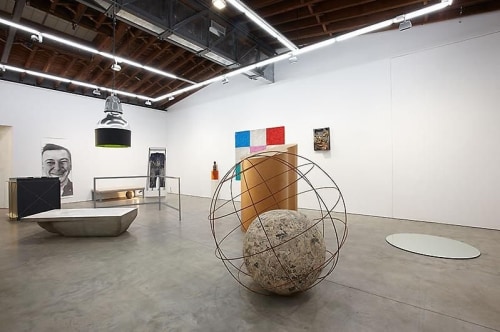 After passing through the doors of Luhring Augustine's vast gallery space in Bushwick for the reception of "Michelangelo Pistoletto: The Minus Objects 1965-1966," I spent more than a half-hour leaning on a wall, trying to acclimate to the warmth of the room. It was snowing outside, and I had not dressed appropriately. From my peripheral position, I could see almost all of the seminal series of sculptures that the Italian artist made in a few months between late 1965 and early 1966. Soon, the artist would give a little speech in front of a restricted audience.
None of the Minus Objects look anything alike; they seem to add up to a group exhibition rather than a solo show. Of course, this was Pistoletto's aim, to break the dogma of the uniformity of individual artistic style. More than 20 works in a variety of mediums are scattered in apparent disarray. There is an open rose made of partially burned corrugated cardboard and a large-scale photograph of Jasper Johns's ears, a painting states, "Ti Amo (I Love You)," and what looks like an old and dirty painter's suit rests in an oblong vitrine. It appears chaotic and unorganized, even if the spotlessness of the gallery suggests something staged with a calculating precision.
When they were first displayed in 1966 in Pistoletto's home-studio in Turin, Italy, the Minus Objects became the subject of widespread bewilderment: critics greeted them coldly, the market value of his earlier "Mirror Paintings" froze, and his affiliation with many dealers ceased. Nonetheless, the series paved the way for the theoretical framework of the Arte Povera movement, conceptualized by Germano Celant just a year later. It was a breakthrough exhibition for Pistoletto, who succeeded in his intent to disrupt the art market, even if that disruption was localized to the salability of his own work.
Read full article at brooklynrail.org