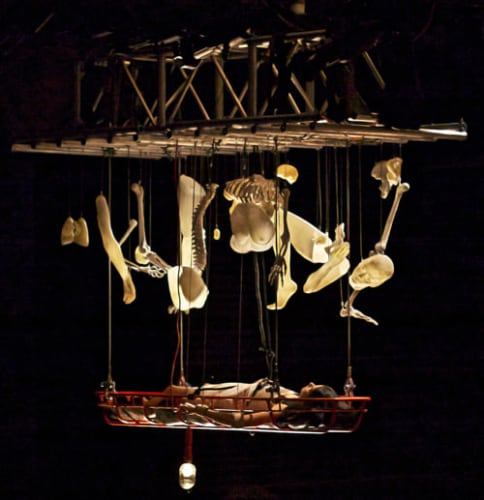 Artist Janine Antoni speaks of her recent engagement with dance and with choreographers, including Annie B, Parson, Jill Sigman, Stephen Petronio and Anna Halprin. Antoni describes herself as new to dance, although her artistic practice has always centered on the body. Movement improvisation, she says, acts as an accelerator of her artistic process; when she dances, she can bring herself to a state of presence and creativity that she had usually had to wait to arrive in bursts between longer stretches of more intellectualized investigation. Antoni's work enacts a practical dialogue between bodies and objects and, by extension, between dance, sculpture and other visual art forms. Her works, as well as her discussion of them, intervene with a generous and probing spirit, in ongoing conversations about the interactions of these forms and disciplinary categories.
Janine Antoni: So, when I was going around offering my studio, I ran into Annie B. Parson at a performance. I didn't know who she was but learned quickly she was a choreographer. I told her about laying a dance floor in my studio, and she was immediately curious. I naively asked her if she needed a space to rehearse. She called me the next day and said, I want to come over and work on some duet material.
Before her arrival, I made a Power Point on my work seen through the lens of the duet. I talked about the duet with 'the other,' the duet with my mother, and the duet with myself. After my presentation she turned to her dancers and said, 'ok, shall we dance this?' And I didn't know what to think. But, of course, knowing Annie B. now, it's exactly what she would do; she's pulling her sources from everywhere.
Then Annie B. and I launched into a conversation about our husbands being artists while the dancers went off to create material from my slide lecture. And then about fifteen minutes later, they had material drawn from everything I showed them. I went for a walk with my husband [the artist Paul Ramirez Jonas] afterwards, and I said, kind of facetiously, this should be my retrospective. I had seen twenty-five years of my work performed in five minutes of dance.
Read full article at movementresearch.org