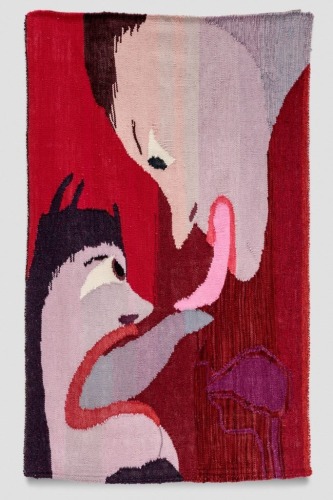 Christina Forrer carries an air of mystery much like her work. The Swiss-born, Los Angeles based artist has made waves through the art world with her contemporary take on the thousands-year-old art of tapestry weaving, now on view in a solo exhibition at Luhring Augustine New York.
Not much has been written about the artist though her art is revered in the contemporary market. What we do know about Forrer is that her work explores conflict and its many forms, from the conflict that is experienced through personal interactions on a daily basis to large-scale, worldwide conflict.
"From the first second we're born, conflict kind of guides our lives. I think it's what makes people do things, good or bad," Forrer explains in an interview with The Swiss Institute. In her work, Forrer is able to take these moments of conflict and forge them into universally personal explorations which all viewers can relate to on some level.
In her first solo exhibition with Luhring Augstine, Forrer has created sprawling, life-like tapestries that take conflict which she views on a daily basis, whether it is between strangers, people she knows, or even animals and translates these moments into her work. Forrer believes that art is overcomplicated and strives to make her work straightforward and easily digestible.
Read full article at artofchoice.co