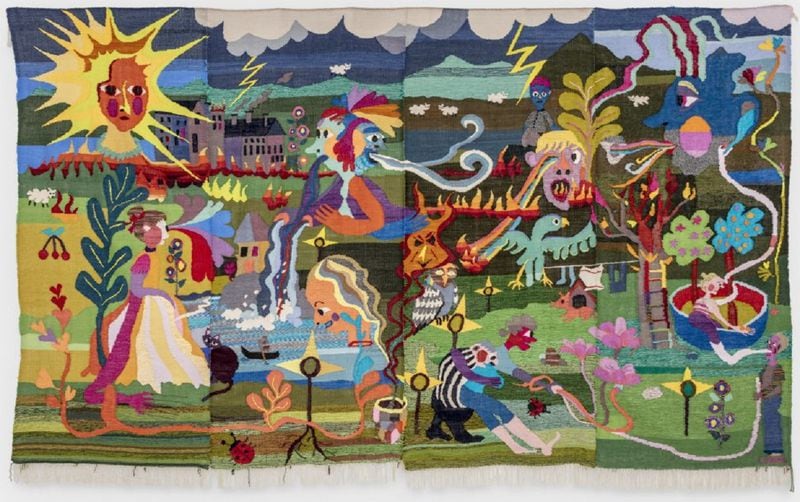 Christina Forrer is standing in the doorway of the MATRIX modern-art exhibit space at Wadsworth Atheneum. She is half an hour away from speaking to a room full of people at the first in-person opening of an exhibit at the Wadsworth, with the artist present, since the pandemic began.
She expresses nervousness, but she is radiant, the artistic aura of one of her floor-to-ceiling cotton/wool tapestries brightening the room behind her.
Forrer is from Zurich, Switzerland but now lives and works in Los Angeles. She weaves large-scale tapestries that comment on modern moods like loneliness, despair, resignation and anger.
"Tapestry just seems easier for me to express what I want to express," the artist says.
It was decided Forrer would create new tapestries to display, and some works she did in other media, then juxtapose them with older artworks by others, chosen from the Wadsworth collections. The project ended up involving items spanning half a millennium. "The Fall of Phaeton and the Metamorphosis of the Heliades" by an unknown artist from the early 15th century is on display, with a 1983 color image by Swiss photographer Arnold Odermatt which depicts police officers swimming.
The contrast of Forrer's tapestries — which use an old-fashioned decorative art form to express bold modern emotions — with established museum pieces leads to some wondrous visual contrasts.
That crush of contemporary and classical already exists in Forrer's work. The central large tapestry, "Sepulcher," is eight feet high and nearly 14 feet across. It contains a maelstrom of fantastical and all-too-real natural and social disturbances: the boatman on the River Styx, burning buildings, a disembodied head, thunderstorms, Adam and Eve and more.
"It's all based on a mourning sampler," Forrer explains, those traditional memorial embroideries popular in previous centuries. She describes her work with a refreshing immediacy and a lack of pretense. Pointing to two characters engaged in a bizarre tug-of-war, she comments "I don't know what they want, but they're pulling at it."
Read full article at courant.com