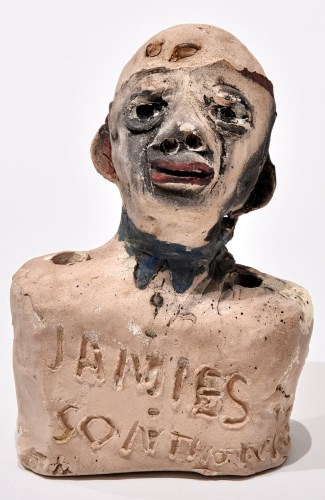 "James 'Son Ford' Thomas: The Devil and His Blues" at New York University's 80WSE Gallery is an inspirational show about the perseverance of art, and the tragedy of inequality. But it is also a thing of joy: It brings the work of a wonderful and underappreciated artist to the fore.
It presents about 100 small, often painted clay sculptures by James (Son Ford) Thomas, a self-taught African-American artist. Born in 1926 in Eden, Miss., an upland village in Yazoo County, he lived his adult life in nearby Leland, Miss., mostly in severe poverty, on the Delta plain. He died in 1993.
This exhibition is the largest ever devoted to his art, which made a rare New York appearance in "When the Stars Begin to Fall: Imagination and the American South" at the Studio Museum in Harlem in 2014.
The sculptures depict a partial universe of animals, fish and birds; tiny occupied coffins; tableaus of everyday life; and some very striking skulls. Most numerous are the heads and portrait busts of people real, imagined and presidential (Washington and Lincoln).
The show has been organized by Jonathan Berger, 80WSE's director, assisted by Mary Beth Brown and Jessica Iannuzzi Garcia, graduate students at the university. It is arranged evocatively by theme in three galleries; big platforms bring everything almost to eye level or, more often, face to face. It is a must see.
Read full article at nytimes.com