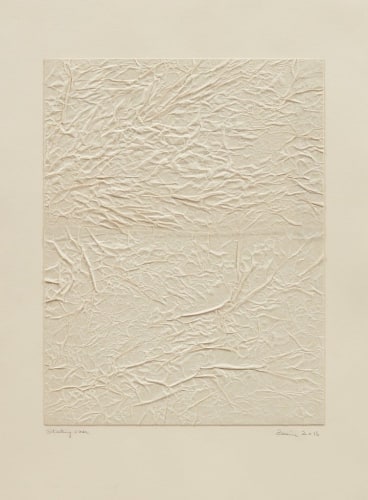 Night's darkness said to darkness, living life is just a habit.
– Kaifi Azmi
Wrinkled paper that evokes a forest. The moon and its shadow. Paper boats.
Folding, crushing, printing, inking, stacking, weaving, rubbing, blotting.
In the current show of Zarina's collages at Luhring Augustine in New York, the cosmic and the granular perform an exquisite dance, inducing a hypnotic, devotional hymn to the universe, and all that exists within it.
While Hilma af Klint's powerful abstractions at the Guggenheim New York write a new subtext for art history, Zarina's intimately scaled exhibition treads a similar terrain of spirituality and subjectivity. Encompassing 24 works and a large, circular vitrine with 100 miniature collages titled "The Ten Thousand Things III" (2016), the show presents a distinguished selection of the New York-based artist's minimalist abstractions from the past decade.
Together, they reveal a gathering storm: an artist restlessly in search of a new idiom.
Zarina, who goes by her first name, is something of an enigma. Born in pre-Partition India to an educated Muslim family, she started traveling soon after her arranged marriage to Saad Hashmi, a diplomat. She didn't go to art school, but discovered printmaking accidentally while in Thailand, where she learned how to make woodcuts. Back in Delhi, she met Krishna Reddy, the famed printmaker, who was to become a lifelong friend (he died earlier this year in August, in New York).
She dreamed of studying at Atelier 17 in Paris with the renowned printmaker, Stanley William Hayter. By fate or coincidence, her husband was posted to the French capital after Delhi. There, at Atelier 17, she learned intaglio and etching. More importantly, she discovered abstraction. This was the late '60s, and Paris revealed itself to her through art. She also found Constantin Brancusi and Kazimir Malevich — influences that resonate strongly in the current exhibition — and read Jean-Paul Sartre and Simone de Beauvoir.
Read full article at hyperallergic.com